Welcome to myBranchOffice SOMA One
An affordable, technology-rich coworking space located in downtown South Orange, New Jersey.
If you're looking for a dedicated workspace or a change of scenery from your home office, look no further! myBranchOffice SOMA One provides a coworking environment for professionals to connect, collaborate and build their businesses. Our facilities come fully equipped and ready to use – with office furnishings, high-speed wired and wireless Internet, desk phones, HDTVs and on-site tech support. When you're here, your work is your only focus. Book a desk, private office, or conference room for as little as a day, or sign up for one of our monthly memberships.
In response to Covid-19, we've modified the space and implemented a new set of safety procedures to follow CDC prevention guidelines. The following health practices are currently in effect:
All occupants must wear face coverings.

Total occupancy is reduced by 50% with seat distancing.

Disinfectant dispensers are available at entrances for hand sanitizing.

Disinfecting wipes are available to sanitize your workstation.

Physical distancing must be maintained while using the space.
Click-to-Call From Your Browser Using WebRTC
A Sneak Peek Into Our Beautiful Office Space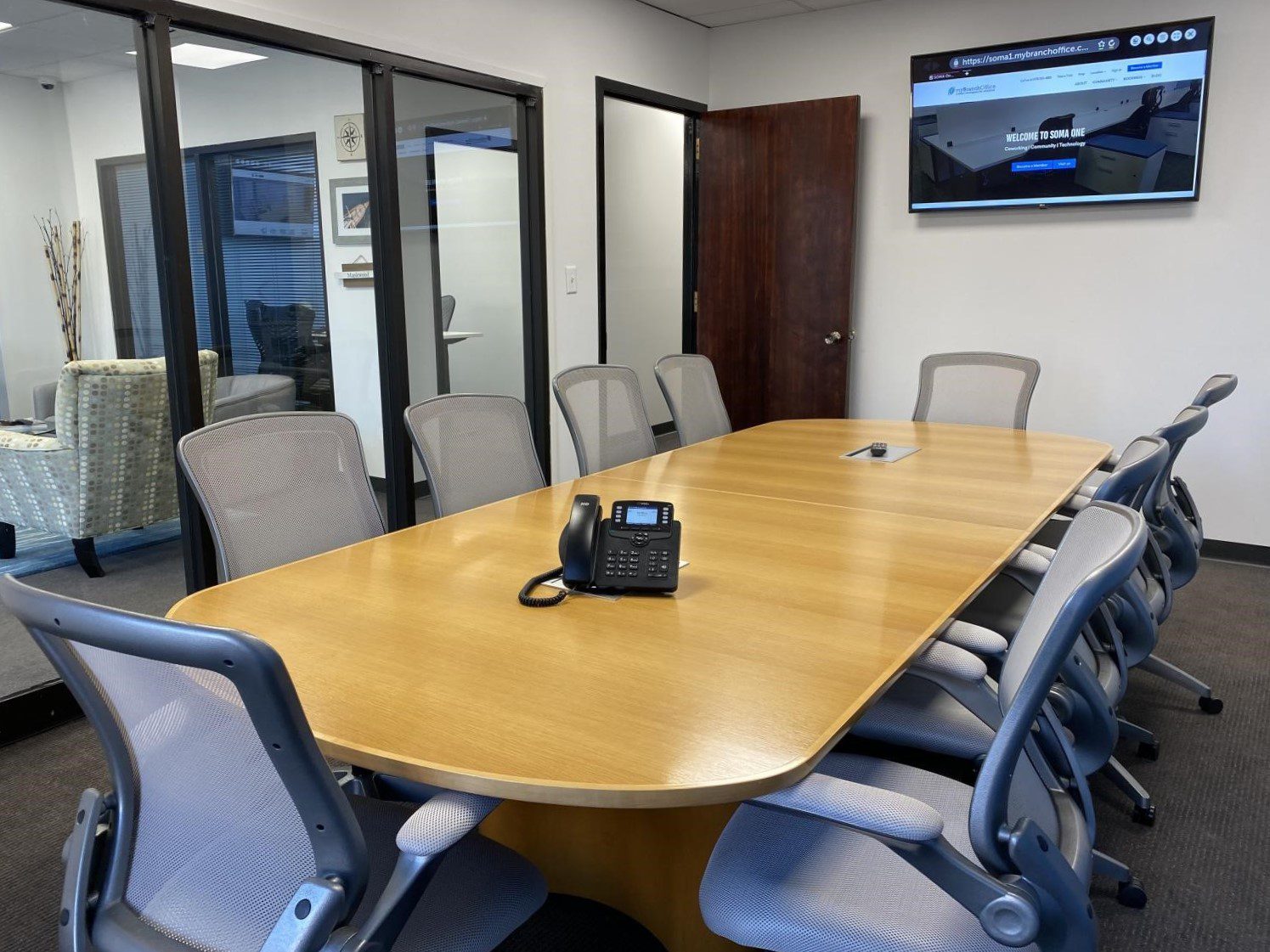 Large Conference Room
Our Maplewood Conference Room, which is normally equipped to seat 10 conferencees, is currently limited to 5. The space includes a large television display, white board, and conference phone. Priced at $40 per hour for guests with an additional 10% off for SOMA One members.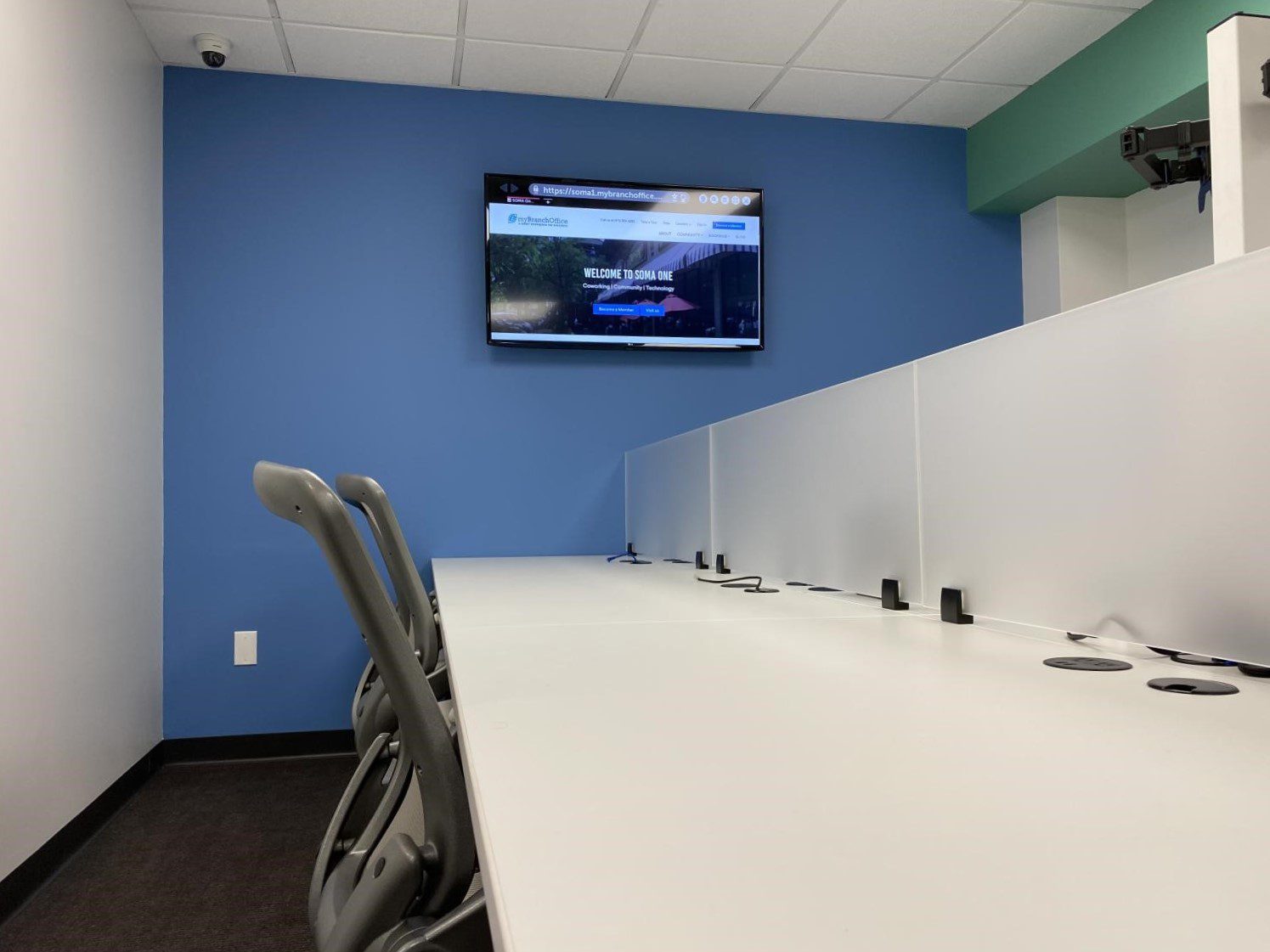 Hot Desks
The Orchard is a large open area with bench-style seating in 2 clusters of 6 seats, a total of 12 complete workstations. Currently, 8 are in service with 6 ft. separation between seats. 
Each table top is complete with (2) built in USB charging ports, (2) AC outlets, Wired Ethernet Internet access and WiFi. 
Small Conference Room
The Ash Conference Room is our huddle room, perfect for small group meetings, interviews or virtual conferences. This windowed office comes equipped with a conference phone and a large television display. Available to rent for $30 an hour. SOMA One members receive an additional 10% discount.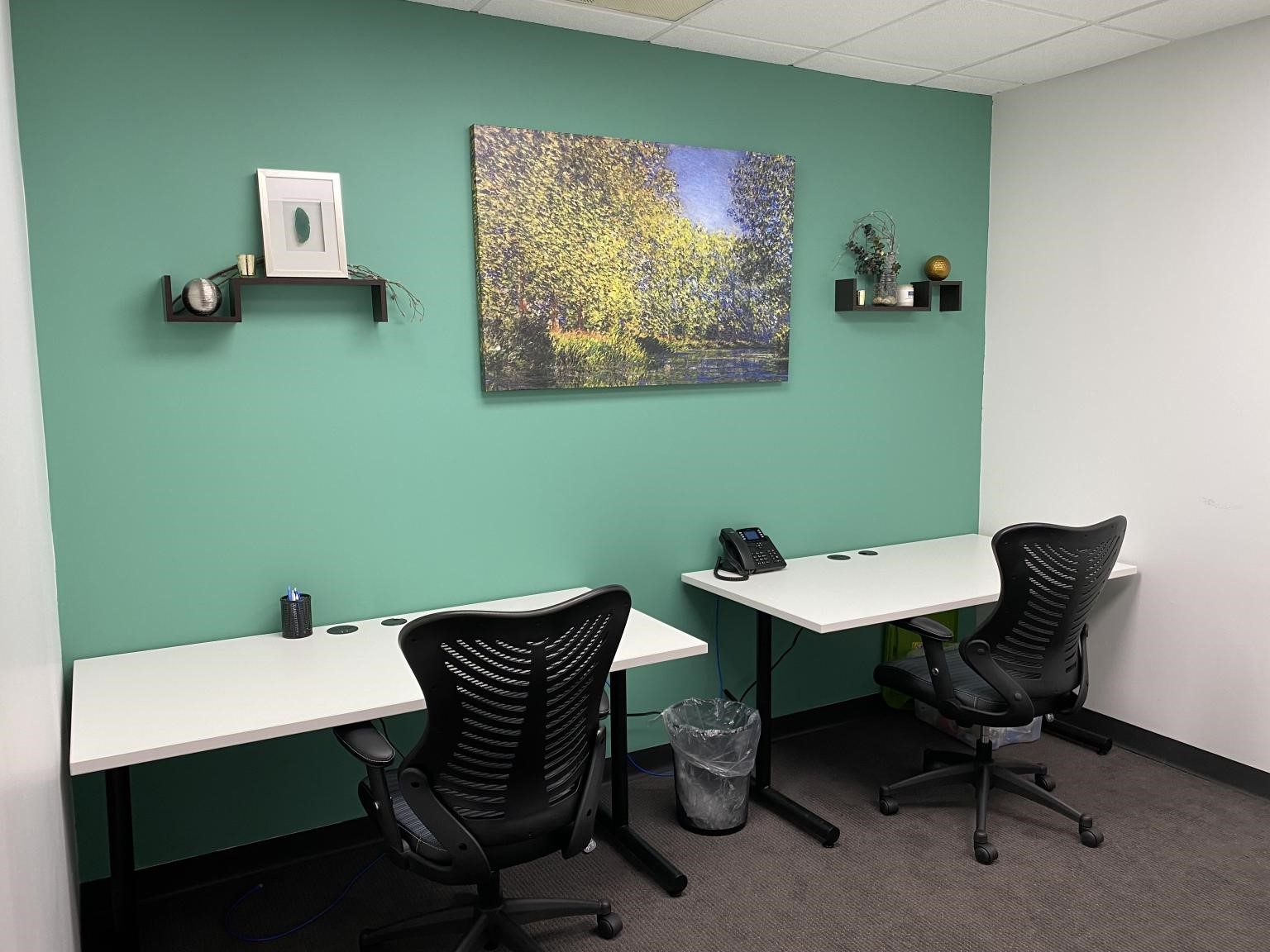 Private Office
Our private offices are currently seating up to 2 people at a time. Space includes phone and internet use. Upon request and with advance notice, the room can be configured with lounge seating to accommodate a private consultation up to 3 people. All private offices are priced at $25 per hour.
Membership is the Gateway
In addition to conventient, one-time bookings, myBranchOffice offers a variety of monthly membership plans for those in need of a long-term stay. Our Standard Membership starts at just $15 per month, giving you space booking privileges, discounted rates, and inclusion to our Networking Community.  Your membership is the gateway to the myBranchOffice space and community. 
Other Membership Plans Currently Available:
Freelancer ($200/month) – Unlimited drop-in use of a hot desk in The Orchard, seat in the Member Lounge, or available Manager desk. 24/7 access. No reservation required. Seats are assigned on a first come, first served basis.

Executive ($1500/month) – Dedicated private office with 24/7 access. Includes 4 hours of conference room use per month and 1 assigned parking spot. Discounts available for 3, 6 or 12 month term agreement.
View all of our price plans and sign up here. Not ready to commit? Come on in for a tour! Call (973) 559-4252 or book online.
Our Central Location Offers Greater Convenience for Busy Professionals
Experience the benefits of an office work environment in a location that offers greater convenience. Centrally located in downtown South Orange, our SOMA One location is an ideal place to work, meet clients and do what you do best – run your business.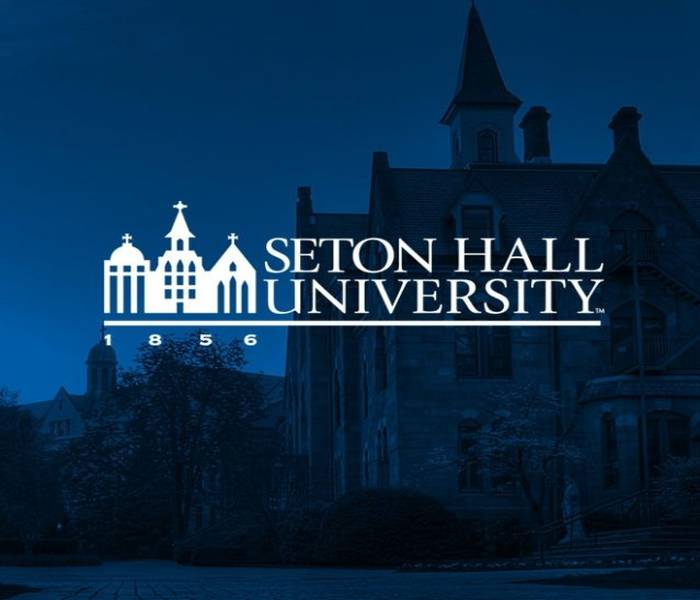 Seton Hall University
The prestigious Seton Hall University is just a half mile up the road. Make your way to campus to attend one of their public events. From business seminars to workshops to guest lectures from renowned scholars, Seton Hall provides ample opportunities to learn and expand your network.
SOPAC
The South Orange Performing Arts Center is known as a cultural centerpiece of the community. Watch spectacular performances by world-class artists or tour their gallery's current exhibition.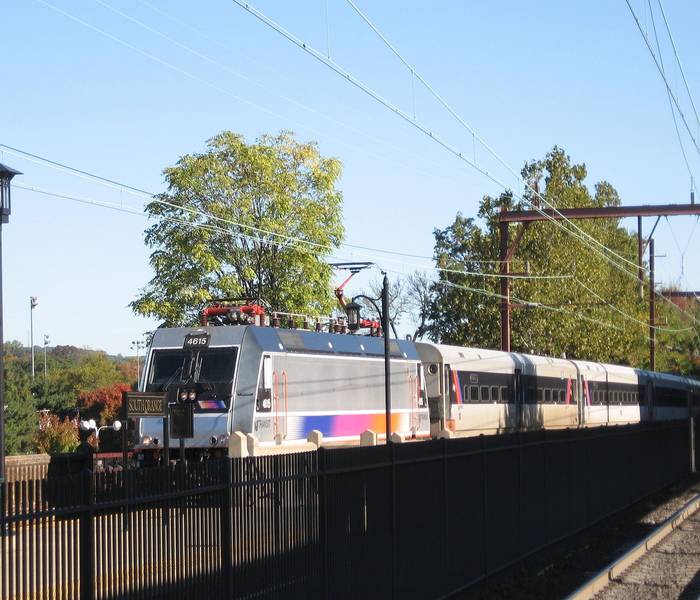 NJ Transit
Our office is just a 3 minute walk 
from the South Orange NJ Transit Station where you can take a 30 minute direct train into NY Penn Station. Work away from the hustle and bustle, but enjoy easy access to the city for when you need to meet clients.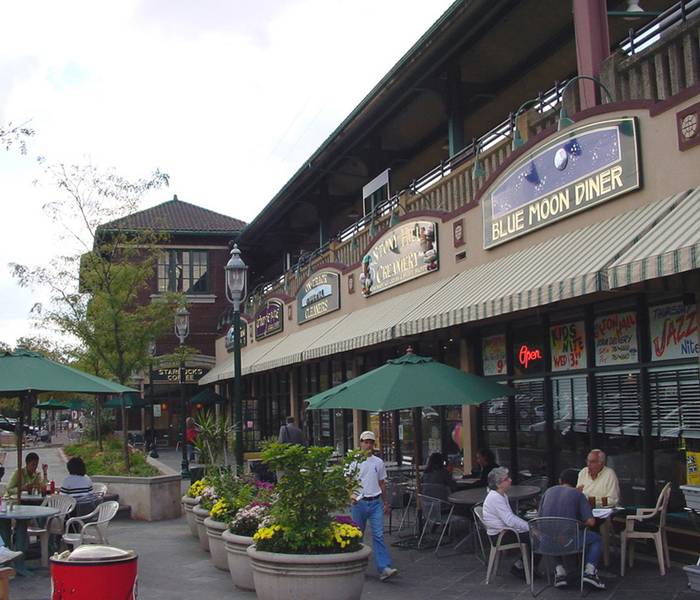 Local Shops and Restaurants
There are several locally-owned restaurants within walking distance of our office. Go out for a quick bite on your lunch break or cater your next meeting in our conference room. There are a variety of delicious options to choose from!
Conference Rooms
My Branch Office provides affordable, technology-rich conference rooms ideal for business meetings, legal proceedings, training sessions, and seminars.
Desk Phones
Every conference room and workstation comes equipped with a state of the art Wildix VoIP phone designed for businesses.
HDTVs
Our office has 3 large televisions displays located in the Orchard, Ash Conference Room, and Maplewood Conference Room. Connect your laptop to display what's on your screen for presentations, meetings, or video conferences.
High Speed Internet
Never lose connection at myBranchOffice SOMA One. Our high speed internet is reliable, secure, and at no extra cost to you.
24/7 Key Fob Access
Come and go as you please – any time of the day, any day of the week. Members have 24/7 access to our space, because we know there is no time constraint on your workflow.
Member Lounge
Take a break during your workday and relax in our Member Lounge. Catch up with a fellow coworker over coffee or sit back and watch a live sports game or news channel on TV.
Community Kitchen
All members and guests have access to our community kitchen where coffee, tea, water, and soft drinks are always available.
On-Site Parking Available
Signing up long-term? Our Executive Monthly membership plan includes a designated parking space on the premises.
Networking Events
myBranchOffice is a vibrant coworking community. Through various networking opportunities such as Lunch & Learns, happy hours and seminars, we encourage our members make connections and expand their network.
Web Services
Need a website for your business? Leave that to us! At a fixed monthly cost, we can build you a custom website that is professionally designed and managed.
Tech Support
Our location has an advanced IP network infrastructure installed and maintained by our parent company, Foritas (NYC), a technology product and service company since 2004. When you're here, so if your tech support team.
Janitorial Services
In addition to disinfectant wipes and hand sanitizers, we have a nightly cleaning crew that thoroughly cleans our offices to prevent the spread of germs.